F.D. Oscillator
The Camfield Oscillator has been developed to provide Smooth, Positive and Cam Controlled Rotary-Linear Combined Motions to an External Shaft. A Compact Housing encloses the Internal Parts and provide six (6) different mounting surface to suit a wide variety of Installations.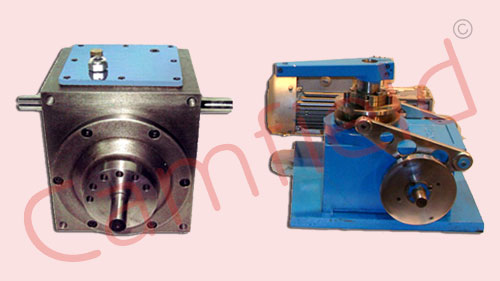 The modified construction avoids the necessity of providing openings in the mounting Base Plate for clearance purposes
TYPE A
Oscillating Linear output movement wherein the output shaft reverses its rotation after each complete linear stroke
TYPE B
Intermittent-Linear output permitting Rotary indexing after each complete Linear cycle. Both type allow Input Shaft Rotation in either Direction with the Corresponding Output Rotation
.
TYPE C
Rotation only-No Linear Movement
OPERATION
Rotation of the Input Drive Shaft (CW or CCW) causes a track cam and lever to produce linear movement of the output Shaft. Positive angular positioning is obtained by the engagement of pair of needle type cam rollers with a hardened and ground guide key(s) suitable fitting rib cam followers keeps rotational backlash to minimum necessary for high speed operation and exact Angular stopping.
SPECIALS
Since the Rotational Motion is a Direct Function of the Cam Stroke, any Angular movement less than 180 Degrees is obtainable with the Addition of a special Cam and positional locking rollers. Non-Standard Linear Strokes and Shaft extensions are also available
ADDITIONAL FEATURES
The oscillators can be mounted in any position with six (6) different mounting surfaces provided. Optional Mount Bases are available. The Output Shafts Are Unhardened to permit Customer Drilling or Reaming Operations. An Output Tubular Linear Output Shaft is available to provide Pneumatic, Vacuum or Electrical Accessibility to Output Tooling.
Application/Target Industry:
Bottle Filling, Tube Filling, Capsule Filling, Laser Marking, Polishing Assemble Automation, Cup Printing, Paper Cup Making, Induction Harding SPMS


Pharma, Printing, Cosmetic, Automobile, SPM & Machining Industry